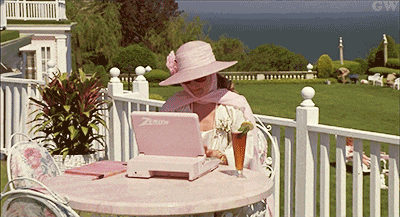 Make your work space nice.
It seems kind of basic, but it makes a huge difference. This doesn't mean you need to create a dedicated home office or buy a bunch of fancy notepads and paper clips. I just mean take a few moments before you sit down to work to nest a little. Here's what that entails for me:
Tidy up the space if needed. Move used coffee cups to the kitchen, put scattered pens in their designated holder, stack those miscellaneous papers into a neat pile. Boom, that's it. Don't actually WASH that used mug or start sorting papers—that's a recipe for procrastination. Just neaten up a bit so you start your day a little more organized.
Accumulate the necessary work comforts. In order to actually get anything done, I need a mug of coffee and a glass of water by my side at all times. I tend to like having my phone nearby, but that's debateable in its helpfulness. And I need my headphones within arm's reach in case the neighbor kids start screaming.
Create the right ambiance. Take a minute to sit at your workspace and assess your current mood. Then figure out what kind of atmosphere you need to create in order to make it a successful work day. Feeling sleepy? Cue up the Lizzo playlist to give yourself a boost. Stressing about the work ahead of you? Light a scented candle and put on your comfiest leggings. Starting to feel stir crazy? Open all the windows and blinds in your space, or even consider working outside if you can.
See? Not complicated or time consuming, but SO much better than plopping down in front of your computer amidst a mess of papers and needing to interrupt yourself every 5 minutes to grab coffee, then find a snack, then go down a rabbit hole searching for the right playlist.